Evoworld: Compact, Innovative, and Powerful
Output Options from 50,000 to 1.7 million BTU/Hr
Evoworld pellet boilers were designed in the world's epicenter of pellet boiler technology, Upper Austria.  The technology and know-how has been brought over, and serves as the basis for what we believe are absolutely the best American-made pellet boilers, bar none. Evoworld boilers are the product of shared ownership between the European developers and their American manufacturer.  In Europe, Evoworld pellet boilers have been heating homes and businesses for 18 years, and they have today more than 5,000 installations worldwide.
The boilers are being manufactured by the American partner company, a company that has been making quality boilers since 1863!  The company's current ownership is in it's third generation. This simple fact attests to the dedication of the Okonski family to sustaining long-term value in the products it produces, and to the loyalty of their customers over the years.  These boilers are so good in fact that Evoworld has begun to export some of the boilers it produces.
The range of boiler sizes is large, from 14kW for a small home all the way up to 500kW, large enough to power a school.  Furthermore, the boilers can be cascaded together for even higher outputs.
On a per energy unit basis, Evoworld boilers have the smallest footprint on the market.  This makes it possible to squeeze in a boiler where others won't fit.  They also are a bit lighter, starting at around 400 pounds for the 15kW unit, and 2,600 pounds for the 200kW unit.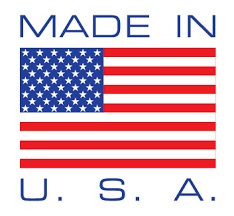 These boilers meet some of the world's toughest clean air and efficiency standards, including EPA's New Source Performance Standards (NSPS) and NYSERDA (NY). They are also UL listed.
EvoWorld Boilers are ASME-Certified
ASME is a requirement in Massachusetts and several other states covering all boilers. Most other states require ASME for commercial installations, either all commercial installations, or all installations with a heat output above some threshold which varies from state to state.
Massachusetts law requires ALL pressurized boilers to be ASME-certified.  If you have a central heating system in Massachusetts, that's heated with water, it's almost certain to be a pressurized system.  The only exception to this rule is gravity systems, invented in France in 1777,  slow and inefficient by today's standards but some buildings still have them!  Warm air furnaces are not subject to the ASME code.
The alternative to a pressurized boiler is an un-pressurized boiler connected to the pressurized part of the system via a heat exchanger.  This unusual arrangement is not recommended because the system loses efficiency through the heat exchanger, requires a more expensive and complex system (bronze circulator, brazed plate heat exchanger, etc.), and constantly exposes the inside of the pressure vessel to oxygenated water which leads to corrosion.  This will lead to a shorter lifespan for your investment.
With the exception of steam heating systems, Evoworld boilers are suitable for any heating installation in the US.
You can look up your state's boiler laws here.
Evoworld pellet boilers: an investment in the best
Designed in Austria, Built in the USA
3-pass heat exchanger
ASME rated pressure vessel (required in Massachusetts)
UL listed
Lambda control for optimal combustion
Achieves EPA emissions standards
Reliable technology, durable components
Suitable as a stand-alone heat source
Among highest level of efficiency
Automatic ignition with hot air
Automatic heat exchanger cleaning with high temp stainless steel turbs
Durable stainless steel combustion plates and pressure vessel
Built in shunt control (protects boiler)
Integral draft inducer ensures smooth ignition and operation
Integral negative pressure sensor for smooth starts
Draft stabilizer (optional) for controlled combustion
Compact design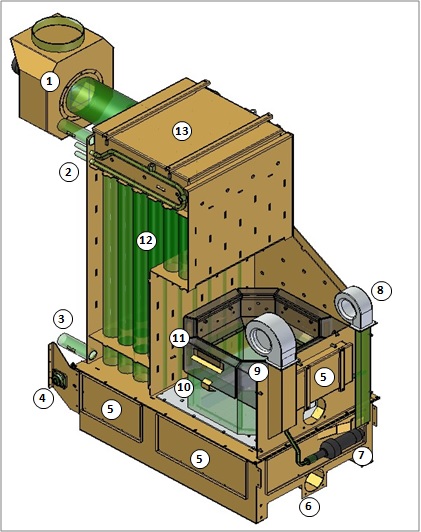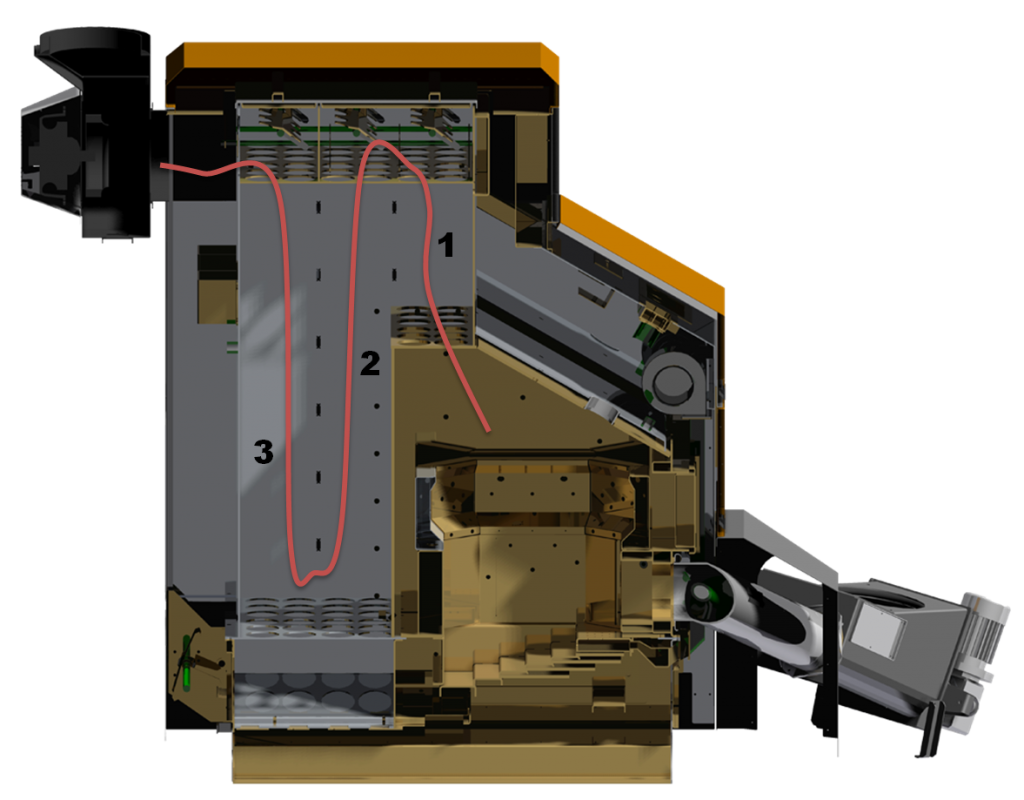 Evoworld boilers come well equipped, wired up and fully assembled, making planning and installation very comparable to a typical fossil fuel boiler installation.
Featured components on 100-500kW units:
 Fully modulating exhaust fan
 Water connection, Supply (& thermal valve)
 Water connection, Return (with integrated temp sensor)
 Cleaning shaft
 Service doors
 Ash discharge
 Hot air gun (pellet igniter)
 Modulating Primary fan
 Modulating Secondary fan
 Step grate combustion & cleaning system
 Afterburn with secondary air
Self cleaning 3-pass heat exchanger with turbulators
Here's a look at the flue gas path through the boilers with outputs of 50kW and above.  The flue gases give off their heat to the heat exchanger as they pass through the boiler, and the ash and particulate matter drops down into the ash bin at the base of the boiler.
Due to their compact size, units with outputs less than 50kW use a single pass through the heat exchanger.
Control of Evoworld boilers is advanced, monitoring several sensors within the boiler, and orchestrating the functioning of the boiler components: pellet feeding, ignition, primary, secondary and induction air modulation, power regulation, grate cleaning, flue tube cleaning, and more.
For one time set-up charge, your boiler's operation can be connected to the internet. Data from the boiler functions are gathered and stored, and made available for customer, maintenance, and manufacturer purposes.  If any operations parameters are breached, the boiler sends a signal and the data to Evoworld.  Adjustments to boiler settings can be made directly over the internet.
Evoworld boiler components
Evoworld boilers come well equipped and fully assembled, making planning and installation comparable to a typical fossil fuel boiler installation.
Some of the key components not shown on the numbered diagram above are:
1. motorized mixing valve – used to prevent condensation and ensure minimum boiler return temp. of 130°F.
2. primary circulator – circulates between boiler, mixing valve and buffer tank.
3. integrated auger motor
4. full remote control via internet with advanced analysis tools
5. pressure relief valve
6. controller with factory settings enabling quick start-up and commissioning
Double-purpose Turbulators/Tube cleaners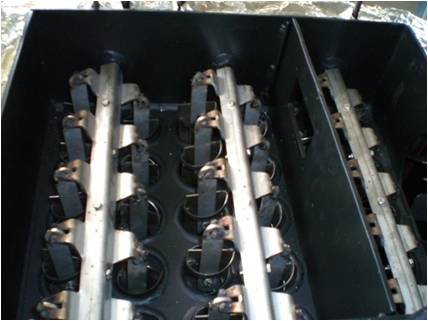 Stainless Steel Combustion Grate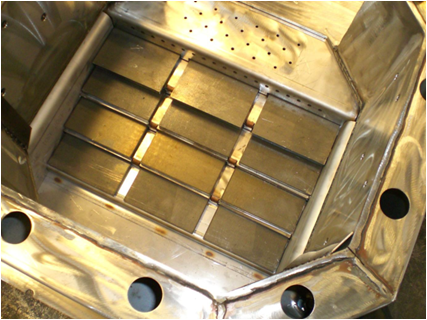 The cascading grate is used for units 50kW and above.  Lower output units use a self-cleaning burnpot.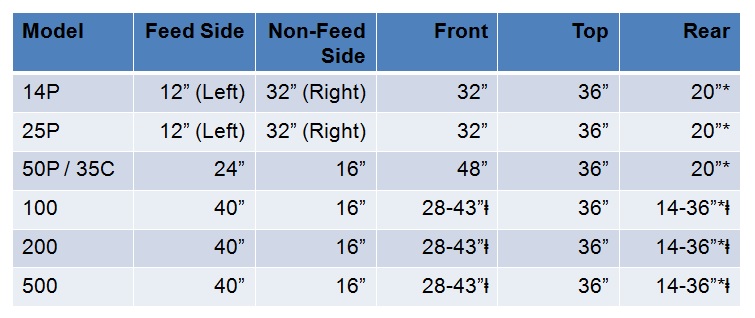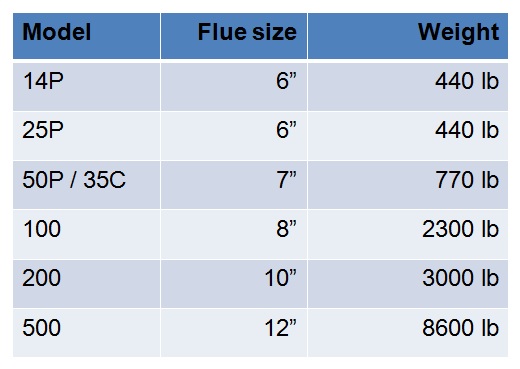 Evoworld information library
This information directory will be expanded shortly.
Warranty (this link will open in a separate window.)
Manual (not yet online. please call.)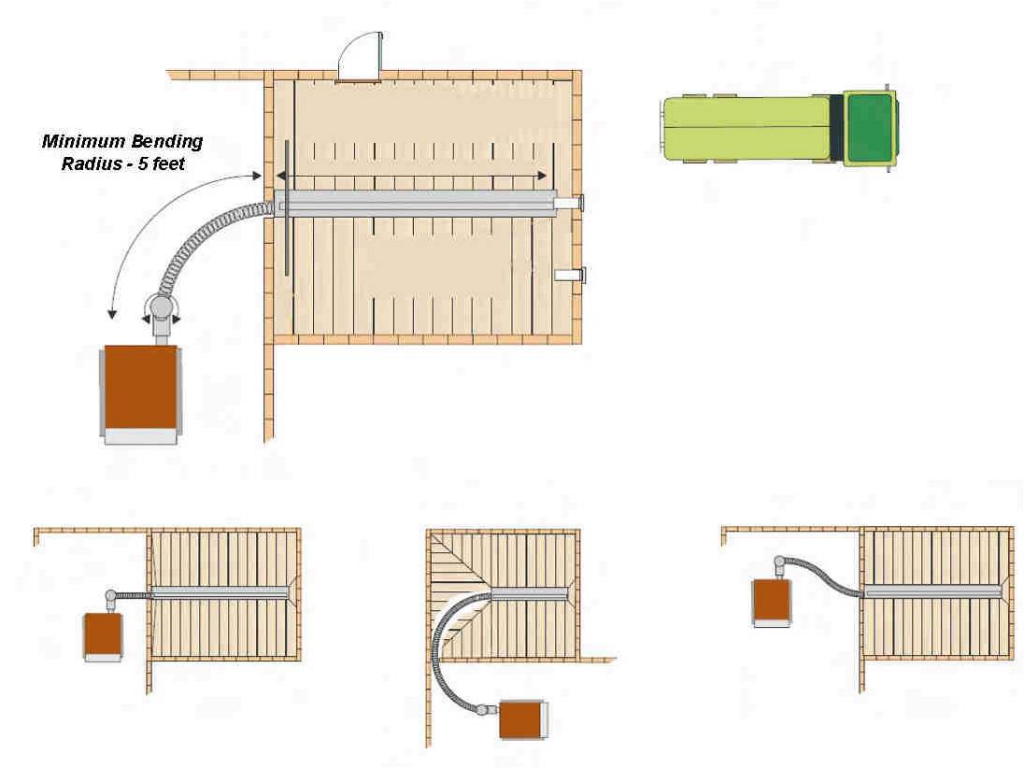 Bulk feed configurations
The flexible augers available with Evoworld pellet boilers make it possible to configure the boiler and the storage in several ways.  The storage can also be set up outside.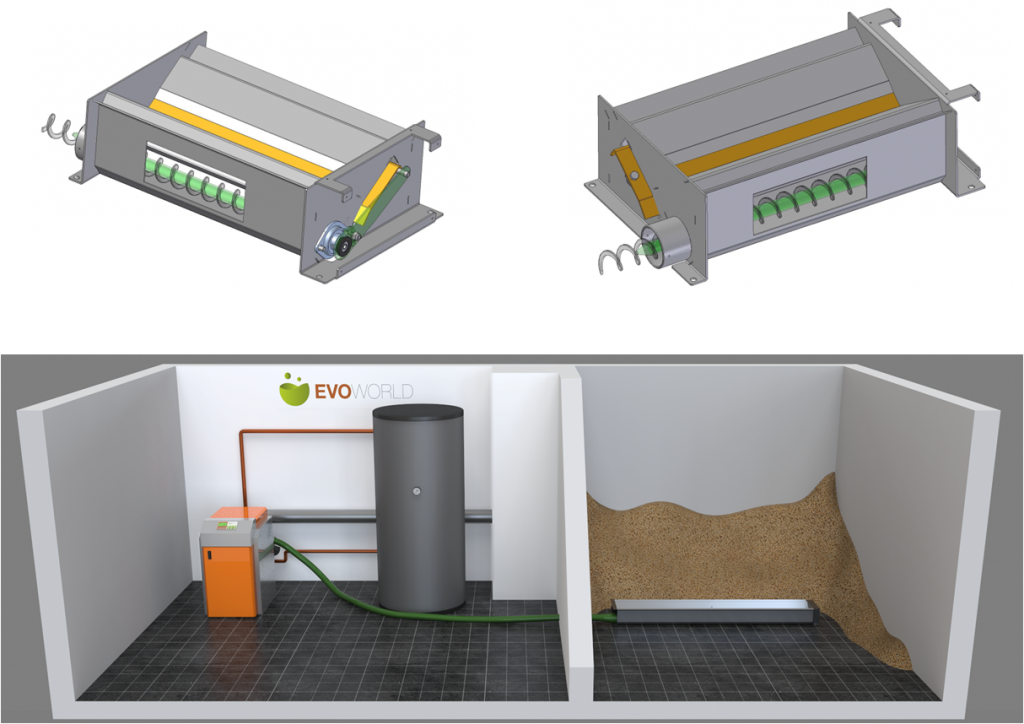 Boiler & bulk storage
Image shows an example of indoor bulk storage with Evoworld's patented feed tray.  The feed tray prevents the weight of pellets from jamming the auger.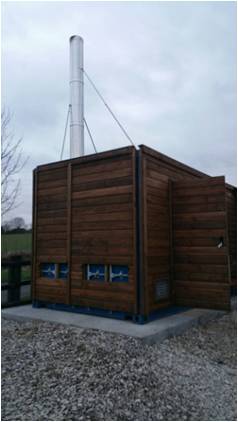 Heating Plant in a Container
Containers can be used to house an Evoworld pellet boiler, pellet storage, and feeding system.  The container is set up off-site including connections, wiring, etc. and brought to the project site.  Setting the container on a concrete pad outside a building, it can be connected into the heating system of the building with a minimum of effort.