Biomass: Wood Pellet Boiler Pros and Cons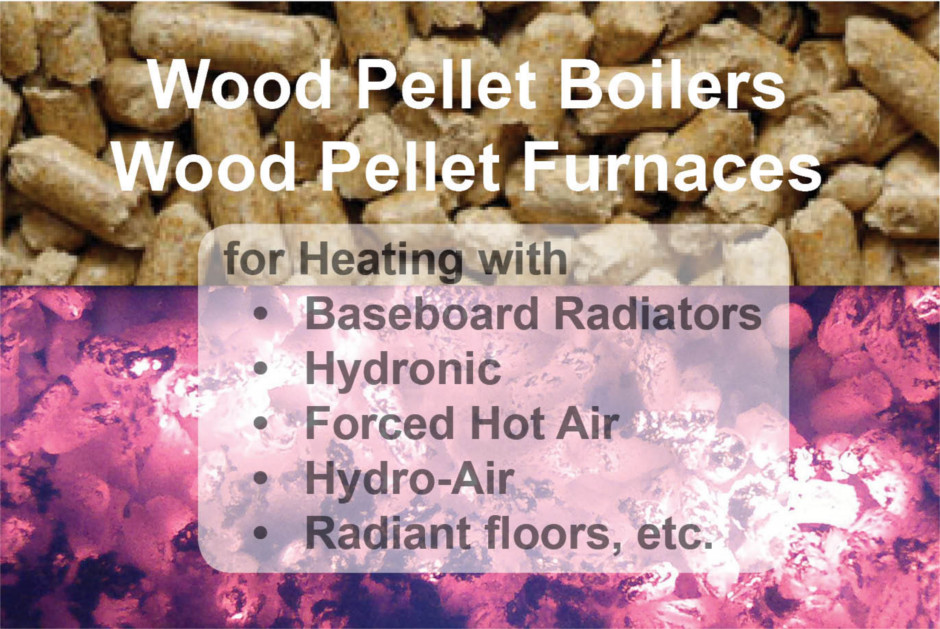 Heating with wood pellets is no longer just a stove thing. Wood pellet boilers are now used to heat homes and businesses with all the comfort people have come to expect from their traditional heat source. One million units are now in service throughout Europe, showing this to be a well-proven way to heat a home.
Suitable for hot water (hydronic) radiant systems, hydro-air, or forced hot air systems with the addition of a hydronic coil, wood pellet boilers function much like oil and propane boilers, with fully automatic operation, domestic hot water heating, and zoned comfort control.
Typically, an ignition element lights the pellets as needed, while wood pellets are fed to the burner in measured doses via an auger connected to an attached hopper or adjacent storage bin. These systems are convenient enough to be a logical alternative to fossil fuel fired boilers.
Of course, there are important differences between wood pellets and the fossil fuels. Wood pellets cost as much as 60% less, plus they are a sustainable, renewable, and carbon-neutral fuel source.1 Wood pellets are made in dozens of locations throughout North America, so heating dollars stay in North America.
Almost any home can be retrofitted with a wood pellet boiler, either as a stand-alone heat source, or as a primary heat source in conjunction with a secondary boiler which serves as back up, or in some cases, as a supplementary heat source.
Past, present, future:
Until recently, pellet boilers have been virtually non-existent in the US. European countries without fossil fuel resources of their own have been leaders in the push toward renewable energy. Companies in Europe developed products that could advance the comfort and convenience of wood pellets beyond what is possible with stoves. Pellet boilers are suitable for people who are interested in saving money, lessening their environmental impact, and keeping their heating dollars close to home.
Advantages:
Wood pellet boilers can help most homeowners and businesses lower their heating costs.
Traditional fuels such as heating oil and propane (a.k.a. LP-Gas) cost 30 to 50% more than wood pellets in terms of cost per unit of energy (Nov. 2017)
Families enjoy the same (or better*) level of comfort from a retrofitted pellet central heating system as they do from their traditional fossil-fueled heat source.
An investment in a pellet boiler can provide a return on investment (ROI) higher than the long term returns in stock and bond markets (about 10% for the S&P 500 vs. 20% or more for a pellet boiler).
Wood pellets are readily available throughout North America, and can be delivered to your home.
Pellet boiler technology is proven, with more than one million successful installations in Europe.
Wood pellet fuel is not as bulky, burns cleaner, and is much more convenient than firewood.
Wood pellets help sustain the regional economy where you live.
Wood pellets improve the energy security of the region where you live.
Wood pellet prices are not impacted by world markets, the inflationary effects of a weakening dollar and the growing demand for energy abroad.
Rebates and grants for MA, NH, ME, NY & VT residents can bring installed costs down.²
Fuel cost savings can amount to tens of thousands of dollars, which can be saved, or spent in better ways.


Disadvantages:

Pellet fuel is bulkier than oil [one gallon (7.2 lbs) of heating oil = about 17 lbs of pellets.]
A little less convenient than oil and gas. Bagged wood pellets must be loaded weekly (or more often with smaller bins) if not delivered in bulk.
Ash bins must be emptied. Because wood ash consists of naturally occurring minerals, the ash can be spread on lawns, gardens, and the woods.

*many people turn their thermostats up a little when they're paying less for the fuel.

Ecological Impacts:

Heating with a carbon-neutral fuel such as wood pellets is a sustainable solution that's better for our ecosystem than are non-renewable fuels such as propane, natural gas, oil, and most electric power.

Comments regarding Boilers, Furnaces, and Forced Hot Air heating systems:

The terms "boiler" and "furnace" are often used interchangeably. This can lead to some confusion. Most "boilers" heat water but do not boil it. This heated water is then circulated to where it's needed to heat a home. The word "furnace" is most often used to refer to hot air systems, though many people use it to mean "boiler".

Hot water boilers can be used for most types of heating systems. Hot air furnaces are only suitable for ducted hot air systems. For solid-fuel-fired forced hot air heating systems, a boiler is usually a better choice than a hot air pellet furnace. Manual ignition hot-air pellet furnaces waste fuel by maintaining combustion all the time. Alternatively, automatic ignition pellet furnaces operate inefficiently by requiring frequent ignitions. In a boiler, the water in the boiler stores the heat and can dispense it in doses without the ignition being required as often.

Hydro-air systems are hybrid boiler and hot air systems.

Wood pellet boilers are a good choice for radiant, baseboard, forced air, and hydro-air heating systems.

Contact EcoHeat Solutions Today!

To learn more about EcoHeat Solutions' wood pellet boilers, click here.  Interested in getting more information on wood pellet boiler heating systems for a specific project? Simply fill out our inquiry form and we can help determine if an EcoBoiler, Effecta boiler, or Evoworld boiler may be a good fit for your application. We can provide information about system set-up, pricing, return-on-investment, cost savings over time, expected pellet consumption, and much more. 877-317-0700 & info@ecoheatsolutions.com
Common Alternatives to Fossil Fuels:
Solid Biofuel / Biomass
Heat pumps
Footnotes:
Wood and wood pellets contain modern era "biogenic" carbon. That is, its carbon is part of the modern era carbon cycle, as opposed to the carbon captured and sequestered over millions of years but only now being released, as is the case with burning oil & gas. International greenhouse gas accounting methods developed by the Intergovernmental Panel on Climate Change (www.ipcc.ch), classify wood and wood pellets as being part of the natural carbon balance of the ecosystem. Residential rebates are available in Maine (Efficiency Maine), New Hampshire (NH PUC), Vermont (Efficiency Vermont), Massachusetts (Mass CEC), New York (NYSERDA) and Connnecticut, along with commercial and municipal grants.  Please see our
Grants and Incentives page
for details.  Contact EcoHeat Solutions for equipment that qualifies.