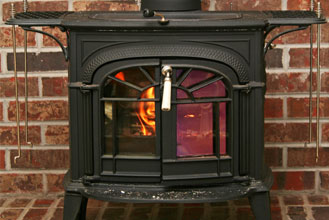 Wood & Wood Pellet Stoves
 What it is:
Wood pellet stoves are typically found in a family room or other frequently used area of the home.  Stoves provide heat mainly to the room where they stand, and are thus used as a supplement to a central heating system. Wood pellet stoves are thus useful for reducing the quantity of fossil fuel purchased.
There are also other types of space heating stoves, such as wood stoves which serve a similar purpose, and which have similar pros and cons.
Past, present, future:
Wood pellet stoves are essentially today's version of the old wood burning stove of years past. Today's stoves burn a lot cleaner and are more efficient than was the case 20 years ago.
Advantages:
Fuel price and availability not exposed to geopolitical risk. Fuel is sourced here in the US.
Disadvantages:
Stoves take up otherwise usable floor space.
The hot fire in a stove dries out the air more than is the case with a hot water central heating system.
Stoves require frequent filling (often daily).
Filling a pellet stove in a living space adds dust to the air.
The stove surface gets hot, so may be inappropriate with small children around.
Stoves use oxygen from the room, so rooms can get stuffy.
Wood pellet stoves are usually unable to heat a whole house.
Wood pellet stoves are not able to heat hot water (e.g. showers, clothes washer, etc.) the way a boiler can.
Ecological Impacts:
No major impacts. Wood pellets are CO2 neutral, and today's stoves burn cleaner and more efficiently than in the past.
Special comments:
There are many stove manufacturers and dealers around the country. Bagged wood pellets are readily available in most areas.
Contact EcoHeat Solutions Today!
Do you like the idea of heating with wood pellets, and are you considering making some changes to how you heat your home? If so, please consider whether our EcoBoiler might be right for you. Fill out our short online request form or call us at 877-317-0700.
Common Alternatives to Fossil Fuels