Effecta Komplett III: for Comfort and Long-term Value
Effecta wood pellet boilers, well known throughout Europe, are imported into North America by EcoHeat Solutions.  The flagship Komplett line of pellet boilers was introduced by Effecta Energy Solutions in 2008.  Effecta, a company based in the north of Europe, has been focused on engineering and manufacturing biomass boilers since 1982.  Since the introduction of the first Komplett pellet boiler in 2008, this successful line of boilers has benefited from continued investment in product development. As a result, many incremental improvements have led to a high level of reliability. EcoHeat Solutions is pleased to offer the third generation of Effecta Komplett pellet boilers here in the USA.
Effecta's boilers are well known in Europe for convenience, reliability, advanced design, top grade components, and solid construction.  But what is it about this line of boilers that makes it "Complete"?  Effecta Komplett III boilers have features and components that make them a dream to install and operate because of the broad array of functionality that's built into every boiler. For example circulation control, draft control, direct control by room thermostat, outdoor reset, optional Lambda control, built in domestic hot water ("standard" models) and very efficient combustion control.  These boilers are equipped to be set up as the brains of the whole heating system.  And because these boilers are built in Sweden to Swedish standards, they truly are built to last.
Komplett III boilers meet the world's toughest standards for low environmental impacts.  These boilers have achieved EN 303-5 2012 class 5, Europe's highest rating for low particulate emissions.   These boilers are also meet EPA's New Source Performance Standards (NSPS),  NYSERDA (NY), BAFA (Germany) and MCS (UK).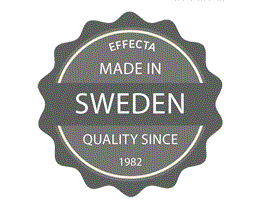 Effecta Komplett III is available in three peak outputs: 20, 25 and 35kW [68,000, 85,000, and 119,000 BTU/Hour]. As a standalone, one boiler suits most houses and commercial properties properties.  These boilers can be cascaded to achieve even higher outputs, as shown in this chart.
Output Options from 68,000 to 597,000 BTU/Hr
| Single boiler | Output in kW | Output in BTU/Hour |
| --- | --- | --- |
| Komplett III 20 | 20kW | 68,000 |
| Komplett III 25 | 25kW | 85,000 |
| Komplett III 35 | 35kW | 119,000 |
Typical residential and small commercial sizes.
| Cascade of 2 | Output in kW | Output in BTU/Hour |
| --- | --- | --- |
| 20kW + 20kW | 40kW | 136,000 |
| 20kW + 25kW | 45kW | 154,000 |
| 25kW + 25kW | 50kW | 170,000 |
| 20kW + 35kW | 55kW | 188,000 |
| 25kW + 35kW | 60kW | 205,000 |
| 35kW + 35kW | 70kW | 239,000 |
Up to 5 Komplett III boilers can be cascaded, for a maximum output of 175kW, or 597,000 BTU/H (e.g. Five 35kW boilers). With pellet boilers in particular, cascading is common in larger installations as multiple boilers operating in concert results in long average cycle times for each boiler. This results in high system efficiency throughout the heating season.
Komplett III Boiler Set-up Options
The image to the right shows the pellet feeding options available with a Komplett III pellet boiler.
From the top down they are:
1. auger feed from a bag-fed bin. 400-lb and 1,000-lb capacity bins available
2. auger feed from a flexible bulk silo. 3.0 ton minimum is usual.
3. integrated hopper for feeding directly with bags. Holds approx. 150 lbs of pellets.
.         4. vacuum suction with flexible hoses to either a flexible silo or a bulk bin
---
The image below shows the right and left orientation options for the burner and pellet feed.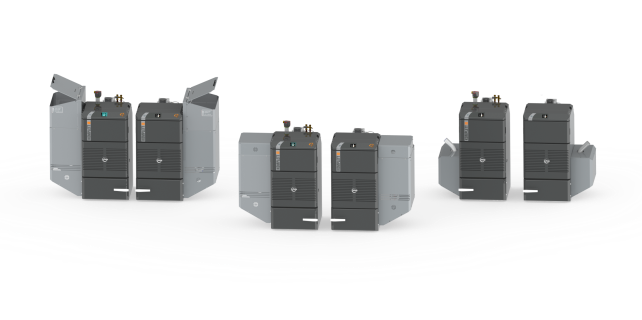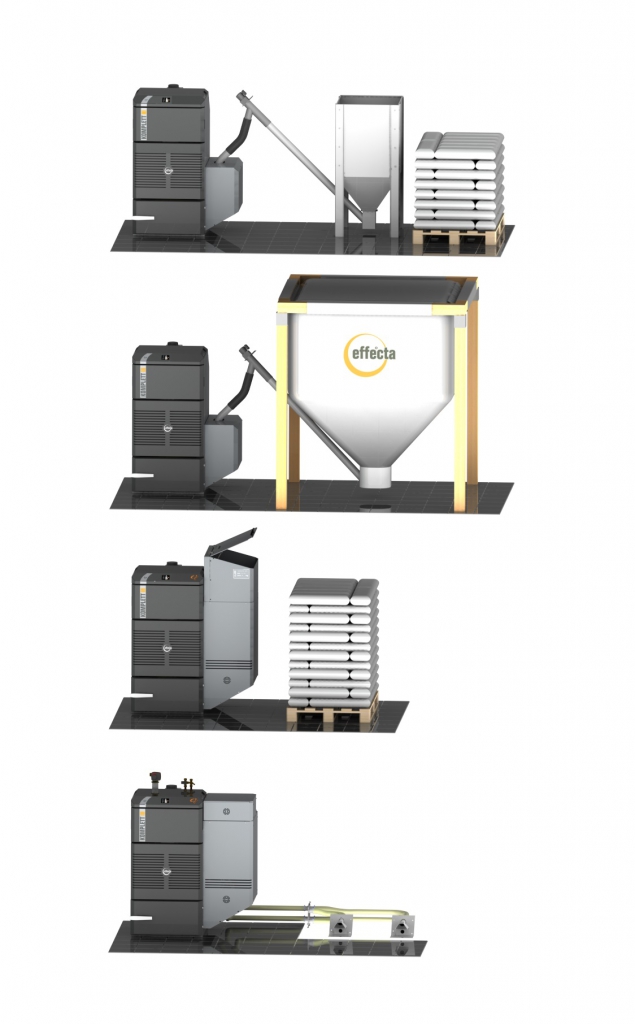 EFFECTA KOMPLETT III
Designed, refined, and built to last, in Sweden
Compact design
Zero-gauge, air-cooled stainless steel combustion pipe
Primary and secondary combustion zones for efficient combustion
Meets EPA emissions standards
Integrated overheat and burnback protections
Reliable technology, durable components
Suitable as a stand-alone heat source
Among industry's top echelon of efficiency
Automatic heat exchanger cleaning
Automatic combustion pipe cleaning with compressed air
Large domestic hot water coil in Standard models
Integral draft inducer ensures smooth ignition and operation
Flexible flue connection for easy installation
Draft stabilizer for controlled combustion
Long-life ceramic igniter (beats traditional electric elements)
Available shunt control (for multiple heating circuit temperatures)
3kW electrical heater on Standard models (optional)
Lambda control (optional)
Built in storage (optional)
Built in suction system (optional)
Features add value to a product. The list of features shown here on the left are ones that are generally hardware-related.
Software features are equally as  important, and Effecta includes the latest versions with every Komplett III. Software is a key factor in making the Komplett boiler efficient and responsive to changes in heating demand resulting from changes in weather, time of day, hot water use, and so on.  Future software updates can be made to installed Komplett boilers if desired.
Effecta pellet boilers feature advanced design, and the best materials and construction you can find.  The sophisticated control of these boilers is the result of years of development and fine tuning.  As a result, Effecta boilers have very efficient combustion, self-cleaning, and trouble-free operation suitable for stand-alone installation.  These boilers are made in Sweden, with no-compromise construction and materials for long-lasting operation.