Why source your wood pellet boiler from EcoHeat Solutions?
To begin with, we support you at every step.
The transition from heating with fossil fuel boilers to wood pellet boilers is steady and ongoing here in North America.  It's occurring because the technology has evolved to where these systems are now mainstream with respect to comfort and convenience.  North American pellet manufacturing capacity has also grown exponentially in the past 10 years.  It's become the alternative many of us have wanted for years.  Heating with a wood pellet boiler is here to stay.
Switching to a pellet boiler from EcoHeat Solutions means you'll maintain the same level of comfort that you've come to expect from your current heating system.  Whether you're heating your home, a school, a library, or some other building, a pellet boiler will protect you from the volatility of fossil fuel pricing.
At EcoHeat Solutions we learn about your heating system and your objectives in order to help guide you to the best solution for you.  If we think one of our pellet boilers is going to be a good fit, we'll support you and the installer before, during, and after installation to make sure the transition goes smoothly and that you receive immediate value from your investment.
Make the move to heat a better way.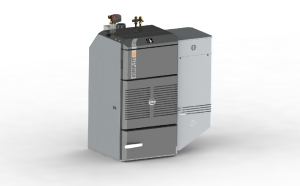 Fuel costs for heating are a big part of your budget.  Year after year, out of control fuel cost volatility has made fuel costs hard to plan for. Over time, thousands of dollars get wasted instead of saved.
Switching to a lower cost fuel today will result in reductions in fuel costs for years to come.  Those reductions can lead to savings of tens of thousands of dollars within 15 years for today's big consumers of heating oil.  With a pellet boiler, those dollars not spent on fuel can be saved, or spent on something more worthwhile.  Wood pellet pricing tends to be less volatile than other fuels, and usually sells at a significant discount to oil and propane here in North America.
Some of our earliest customers have had their pellet boilers already pay for themselves in fuel cost savings, and these boilers will continue to save our customers' money for many years to come.   If your fuel consumption is high, you can expect faster payback on your investment, because wood pellets sell at a discount to the fossil fuels.  So schools, municipal buildings, large homes, and multi-families stand to gain the most savings from the switch in fuels.
Our selection of pellet boilers has broadened out to meet virtually any space heating application.  Heating your home, school, or business with a pellet boiler from EcoHeat Solutions is an idea well worth exploring.  Please contact us
here
for a thorough discussion of your unique application, and to learn just how easy it can be to make the transition from heating with fossil fuels.
Introducing two great lines of pellet boilers!

Since being founded in 2008, EcoHeat Solutions has focused on development, manufacturing, distribution and support of our very own EcoBoiler pellet boilers.  This year we're widening our offering to include distribution and support of the boilers of two great pellet boiler manufacturers, Effecta Heating Solutions, and Evoworld.
Effecta and Evoworld provide us a complete range of products so there's an excellent chance we have a solution that suits you. These boilers come in multiple outputs, and are well built and dependable. EcoHeat Solutions also offers their innovative bulk pellet storage solutions which are suitable for more and more applications as bulk distribution expands in North America.
Evoworld and Effecta have invested thousands of hours in evolving their technologies and capabilities to the point where they have products that are very efficient, clean burning, and built to last.  These companies are known for providing great training and factory support as well.
Both Evoworld and Effecta have roots in Europe, where pellet heating technology has been developing for 20 years, and where increasing efficiency and usability have been priorities.  Get a better overview at the products page where you can learn more about which products are likely to suit you best.  More specific guidance is available by filling out the inquiry form.
Incentives, Grants, & Financing
Incentives in the form of grants and special financing may be available to you, but they aren't available everywhere, and where they are, they come with many restrictions and caveats.  There are currently incentives for pellet boilers in Maine (Efficiency Maine), New Hampshire (the NH Public Utilities Commission), Vermont (Efficiency Vermont), Massachusetts (Massachusetts Clean Energy Center), Connecticut and New York (NYSERDA), plus incentives in any state through the USDA for commercial boilers.  Please review the incentives page for more information.
Heating solutions suitable for the short and long term.
E
valuating your options doesn't have to be too complicated.  You're either going to heat with some sort of fossil fuel, with electricity, or with some form of biomass, either wood or wood pellets.
Fossil fuels have a history of volatility and that is unlikely to change.  Straight electric is obviously very expensive. Heat pumps, which combine electricity with low-grade thermal energy, don't run efficiently at low input temperatures, nor with higher output temperatures, narrowing down the applications for which they are suited.  Wood is too inconvenient for most people.  That leaves pellet boilers.
Today's best pellet boilers use technology that makes them efficient and convenient.  And of course the fuel is produced locally, or at least regionally.  Well, now you just have to figure out what brand of pellet boiler, what size, and what the set up will look like.  Well, we've looked at lots of pellet boilers ourselves and have come up with products that we believe meet our mission of providing excellent value to our customers.  And there's a good chance we can locate an installer near you.  Our goal is to make the process an easy one for you, and  others like you, whether you're just starting to look or are looking for a quick change .
Since 2008, EcoHeat Solutions (EHS) has continuously held the objective of providing the best value in manual-clean pellet boilers, by focusing on complete heating solutions: product, service and support. We partner with quality-minded professional installers experienced in central heating. In addition to our EcoBoiler pellet boilers, EHS is now a value-added distributor of fully-automated pellet boilers from our product partners, Effecta and EvoWorld. These companies are making a name for themselves with their innovative designs, their advanced technologies, and the high quality of their materials and construction.
The company mission is to be a valued solutions provider to our customers, our suppliers, and our systems engineering and installer partners. We strive to provide compelling solutions for a wide range of applications including residential, commercial, and municipal heating systems. The company seeks to accomplish our mission ultimately by ensuring that every customer gets a solution that provides satisfaction, comfort, immediate fuel cost savings, and significant long-term value.
Customer satisfaction surveys have shown an average satisfaction ranking of 4.7 on a scale of 1 to 5, where 5 is "extremely satisfied".

"After looking at many products including heat pumps and new propane furnaces, we settled on an EcoBoiler because it was going to save us more money. We heated with a pellet stove for many years and knew the fuel is a good value." Henry L. (Massachusetts)
"My EcoBoiler is easy to clean. No issues." Jerry F. (Maine)
"A lot easier/cleaner than roundwood" Brian H. (Maine)
"Very happy with my EcoBoiler. I had been burning wood in an outdoor boiler and use much less fuel today." Owen B. (New York)
"When I wasn't getting the performance I expected, EcoHeat Solutions figured out the problem in one phone call and walked me through some changes. Just needed some small adjustments on the control. Glad to have such good support!" Linda H. (Connecticut)
"For years I spent many hours cutting, splitting, hauling, stacking and loading wood. Now I get pellets delivered and can take it easy." Ronald M. (New Hampshire)
"I cut my bill in half with a warmer house!" Bill T. (Massachusetts)
"I LOVE THIS TECHNOLOGY" S.P. (Connecticut)
"It has saved me a lot this past winter. Should pay for itself in 5-7 years." Walter S. (Vermont)
"Works like a charm." Lou S. (Rhode Island)
"The best solution to reducing your carbon footprint, fantastic support, wish I had this option 10 years ago!" T.A. (Vermont)
"One of the best investments I have made. Has cut heating bill nearly in half." Philip V. (Vermont)
George Whiting
Outdoor reset is used to continually adapt a heating system to the outdoor temperature.  When the air outside is cold, the heating system raises its fluid temperature inside to compensate.  Warmer air outside has the [...]
George Whiting
Quality is an important aspect of durable goods such as boilers and furnaces.  This is certainly the case with pellet boilers.  A quality pellet boiler can be expected to run reliably and efficiently,  be easy [...]
George Whiting
Charlie Niebling has long been an advocate of biomass thermal in North America. In the Biomass Magazine article below, Charlie provides an interesting view of how government incentives affect the growth of biomass thermal in [...]